"Forever Loved, Never Forgotten"
The Navy Gold Star Program is eternally grateful for the sacrifice of those Service Members who have died in service to our country. To help us to never forget, we have set up this tribute page to honor and remember the memory of those lives. If you would like to honor the memory of your Sailor, Soldier, Marine, Airman or Coast Guardsman through the Navy Gold Star website please submit your thoughts and a photo.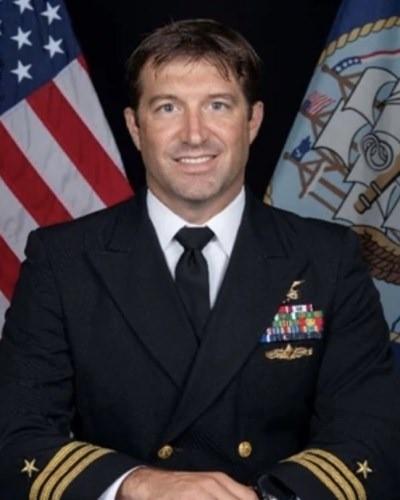 Commander Brian Bourgeois was born in Lake Charles, Louisiana. He was a 1997 graduate of James E. Taylor High School in Katy, Texas. As a proud Cajun and avid outdoorsman, he grew up hunting and fishing. He was a stand-out athlete on the football and baseball teams. His desire to serve, passion to lead, and determination drove his appointment to the United States Naval Academy. While at USNA, Brian was a four year member of the varsity football team where he left an undeniable legacy of friendship, perseverance, and commitment.

Upon graduation and commissioning in 2001, Brian was selected as a Surface Warfare Officer. After 3 years, he attended BUD/s and graduated with class 253. He went on to earn his master's degree in Defense Analysis from the Naval Postgraduate School and received the Pat Tillman Leadership Award for his class.

Commander Bourgeois was the special combination of grit and determination coupled with an easy going personality. A leader of action, "Booj" showed care and concern for those with whom he served and was present to listen and provide help when needed. He had a mindset of service to others and engaged meaningfully within the community.

Nothing brought Brian more pride and joy than his wife, children and dogs. He remained a constant source of love and strength in their lives and was determined to be a regular presence despite the high operational tempo of his profession. Brian and Megan recently celebrated 20 years of marriage, and she was the love of his life. Brian was immensely proud of his wife and five children and never missed an opportunity to talk about them.
Brian's many awards and decorations over the past two decades included a Bronze Star with valor. .
Brian is loved and missed by many.