"Forever Loved, Never Forgotten"
The Navy Gold Star Program is eternally grateful for the sacrifice of those Service Members who have died in service to our country. To help us to never forget, we have set up this tribute page to honor and remember the memory of those lives. If you would like to honor the memory of your Sailor, Soldier, Marine, Airman or Coast Guardsman through the Navy Gold Star website please submit your thoughts and a photo.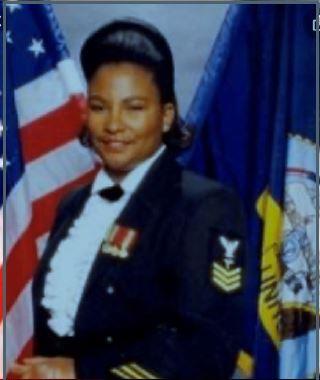 SCPO D'Juna Marie Hayes-Jones was born to Gerald and Evelyn Hayes Sr. in New Orleans, LA, where she grew up with her brothers. She graduated from L.W. Higgins High School and joined the Navy in 1983 where she became a Corpsman. D'Juna loved her Datsun 210, ballet and Jazz as well as the New Orleans Saints. Her brother, Jarrett, said, "she had a love of life, friends and family, music, and good food. She enjoyed various foods from all over the world and heard all kinds of music and viewed artwork," said her brother. "Yet, as she would say, 'I've been around the world and tasted lots of great food, but no food compares to New Orleans cooking." She is remembered by her father, Gerald Hayes Sr., her brothers, Gerald Jr., Stacey, Kapell, Djuan, Aristede, Yunaka Baham, Jarrett, Rubien, and Gerilyn as well as her husband, Earnest Jones Sr., and their children, Earnest Jr. and Danika.