"Forever Loved, Never Forgotten"
The Navy Gold Star Program is eternally grateful for the sacrifice of those Service Members who have died in service to our country. To help us to never forget, we have set up this tribute page to honor and remember the memory of those lives. If you would like to honor the memory of your Sailor, Soldier, Marine, Airman or Coast Guardsman through the Navy Gold Star website please submit your thoughts and a photo.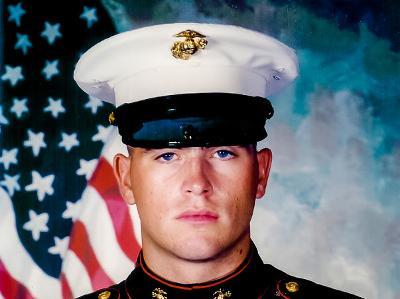 Jayton Daniel Patterson of Sedley, Va. was born on August 9, 1978. He was the firstborn son of Frank and Sharon Patterson. Jayton shared a loving relationship with his sister Mattie and brother Hunter. He engaged in all sports during his childhood and teen years - hunting, fishing, baseball, football and basketball. He was an active member of Millfield Baptist Church and was known as a soldier of God.
After graduating high school from Tidewater Academy, he attended college prior to enlisting in the Marine Corps in 1999 and re-enlisted in 2003. Jayton trained in Parris Island, and then went on to serve his first 4 years as part of the White House Security Detail in Washington, D. C. Stationed at 8th and I Marine Barracks, he marched proudly in the Evening Parades. He was an elite Marine who had toured the Pentagon and the World Trade Center with President Bush after the September 11th attacks. He found the love of his life, married Stephanie Bays of Wakefield on February 15, 2003 and they were blessed on October 15 with a beautiful daughter, Claire.
Jayton was transferred to Camp Lejeune in August 2003. He deployed with the 1st Battalion, 2nd Marines, Bravo Company, Weapons Platoon, 24th Marine Expeditionary Unit in July 2004 to Iraq. Jayton was killed by an IED explosion in the Anbar Province of Iraq on January 15, 2005. He died a hero, serving his country and protecting our freedom. Semper Fi.