"Forever Loved, Never Forgotten"
The Navy Gold Star Program is eternally grateful for the sacrifice of those Service Members who have died in service to our country. To help us to never forget, we have set up this tribute page to honor and remember the memory of those lives. If you would like to honor the memory of your Sailor, Soldier, Marine, Airman or Coast Guardsman through the Navy Gold Star website please submit your thoughts and a photo.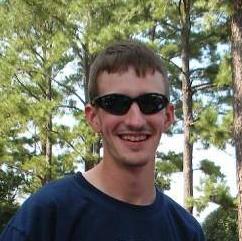 Matthew grew up participating in Royal Rangers at church and earned Ranger of the Year several times. He was also in several Christmas plays, even having the lead role in one. As a teen he helped in the puppet ministry and especially liked being a human blacklight puppet. At high school Matthew was a member of JROTC. In his senior year he served as his school's Battalion Commander. After high school Matthew went to an art school in Atlanta, intending to become a famous movie producer. While in Atlanta he married his high school sweetheart. Realizing he needed a stable source of income, Matthew signed up with the Navy (following his brother and two cousins). Falling back on computer skills he had learned in high school, after boot camp, Matthew went to an A-school in Pensacola. Hearing that the top graduate could earn a rank, Matthew made that his goal. Upon graduating at the top of his class, his official title ranking was CTM3. Matthew was then stationed at Fort Meade and while there, he was deployed on a special assignment. He was to be gone for four months, but couldn't tell us where he would be. He was able to call home several times during the first two weeks. However, his last call to his wife one Saturday morning turned out to be his last call home. He hadn't even been gone one whole month when we learned he was one of two Americans killed in Islamabad, Pakistan.