"Forever Loved, Never Forgotten"
The Navy Gold Star Program is eternally grateful for the sacrifice of those Service Members who have died in service to our country. To help us to never forget, we have set up this tribute page to honor and remember the memory of those lives. If you would like to honor the memory of your Sailor, Soldier, Marine, Airman or Coast Guardsman through the Navy Gold Star website please submit your thoughts and a photo.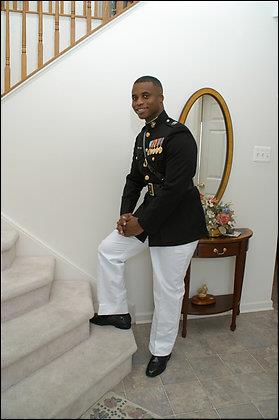 Jesse Melton III was raised in Randallstown, MD. He attended Randallstown High School graduating with honors in 1996. He attended Messiah College, PA fall of 1996. Jesse was a Christian whose mindset was God first. He was active in the youth group at Colonial Baptist Church, where he displayed early, his ability to lead.
Jesse enlisted in the Marine Corps Reserves, 05/19/1997 after his freshman year at Messiah. After his junior year, he completed OCS. Upon graduation with a B.A. in Communications, June 2000; he was commissioned 2nd Lieutenant. He believed a good officer must lead by example. He stated, "I want the Marines on my team to follow me out of admiration, not obligation," Jesse was promoted to Captain prior to Iraqi deployment in 2005. Upon return to the U.S., he attended and graduated from EWS.
He was assigned to the 12th Marines, 3rd Marine Division, and III Marine Expeditionary Force Okinawa, Japan. Before deployment to Afghanistan, Melton told his mother "I want to go change the world and make a difference, to do something that will bring God Glory." He served about six months in Afghanistan before being KIA 09/09/2008 with three team members by an IED. He was off duty but agreed to substitute for a fellow Marine; whose daughter was born two days later.
Melton received 13 awards, (4 posthumously): Bronze Star Medal (w/Combat "V"), Purple Heart Medal; Joint Service Commendation Medal; Combat Action Ribbon, NATO Medal (ISAF- Afghanistan).