"Forever Loved, Never Forgotten"
The Navy Gold Star Program is eternally grateful for the sacrifice of those Service Members who have died in service to our country. To help us to never forget, we have set up this tribute page to honor and remember the memory of those lives. If you would like to honor the memory of your Sailor, Soldier, Marine, Airman or Coast Guardsman through the Navy Gold Star website please submit your thoughts and a photo.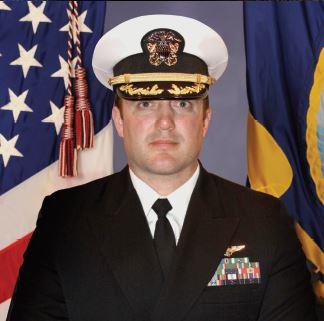 John A. DiGiovacchino was born in Woodbury, NJ, and grew up in Clarksboro, NJ, where he attended Kingsway Regional High School. He loved soccer, music, cars and motorcycles. After graduation, he attended The Pennsylania State University where he earned a B.S. in Mechanical Engineering in 1996. He was commissioned in the Navy in September, 1996, and was designated as a Naval Aviator in 1999. He flew the E-2C Hawkeye and had several deployments aboard the USS Abraham Lincoln and later after becoming a test pilot, aboard the USS John Stennis participating in several peacetime multinational security exercises. He continued his education, earning an M.S. in Aeronautical Engineering at Wright Patterson Airforce Base in 2005. In 2010 he reported to Naval Air Station Patuxent River, MD, and was assistant program manager for Systems Engineering working on the E-2D Hawkeye at the time of his death in 2015. He is remembered by his wife, Christine, his brothers Mark and Joe, and his parents, Anthony and Kathy.