"Forever Loved, Never Forgotten"
The Navy Gold Star Program is eternally grateful for the sacrifice of those Service Members who have died in service to our country. To help us to never forget, we have set up this tribute page to honor and remember the memory of those lives. If you would like to honor the memory of your Sailor, Soldier, Marine, Airman or Coast Guardsman through the Navy Gold Star website please submit your thoughts and a photo.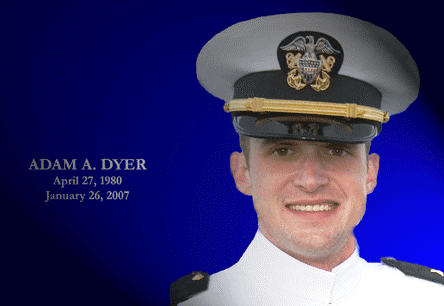 Biography Of Lt. Adam A. Dyer: USN Lieutenant Adam A. Dyer was born on April 27, 1980 in Lafayette, Louisiana. He attended Lafayette High School and graduated from the Louisiana School for Math, Science, and the Arts in Natchitoches, Louisiana. As a Boy Scout, he attained the distinct honor of Eagle Scout. He received a Bachelor of Arts degree in Psychology from Louisiana State University in 2002. While attending college Lt. Dyer held several jobs, but at the time of his graduation he worked for the State of Louisiana as an interpreter in the Department of Tourism. Lt. Dyer was fluent in Spanish. Following graduation from college, he joined the United States Navy.
For a Boy Scout project, Lt. Dyer once wrote that his goal was to become a Navy Officer. He was commissioned as a United States Naval Officer in December of 2002 and completed primary flight training at Training Squadron 27 followed by advanced flight training at Helicopter Training Squadron 18 in Pensacola, Florida. During training Lt. Dyer's instructors often challenged his knowledge, but little did they know that he was one of those gifted people who had a photographic memory. He could recite correct procedures back to them verbatim, including the page numbers.
On November 5, 2004 Lt. Dyer was designated a Naval Aviator. He was then assigned to Helicopter Sea Combat Squadron 3 in San Diego, California for training in the MH-60S, and upon completion reassigned to Helicopter Sea Combat Squadron 21. He participated in hurricane relief operations after Hurricane Katrina for which he was awarded the Joint Service Achievement Medal and the Humanitarian Service Medal. Lt. Dyer was instrumental in the formation of Helicopter Sea Combat Squadron 23. His awards include the National Defense Service Medal and the Global War on Terrorism Service and Expeditionary Medals. Lt. Dyer was deployed to the Middle East twice during which times he and his team were credited with rescuing numerous people who were in harm's way.
Before his tragic and untimely death on January 26, 2007, he was in training to return to the Middle East for a third tour of duty. Lt. Dyer realized his lifelong dream of being a Navy pilot, and in his final moments, he sacrificed his life as unselfishly as he lived it, trying to save those around him. Whatever the circumstances surrounding his all too sudden death, there is no doubt that to the point of his last breath, Lt. Dyer's efforts were focused more on saving his crew than on saving himself.
Lt. Dyer came from a military-oriented family, with his father and both grandfathers having served in the military. In addition to flying helicopters, Lt. Dyer loved golf, and running, His family and friends remember him as a strong person who would never quit anything, no matter how hard things were. He always saw things through from start to finish. As a naval aviator, Lt. Dyer was the consummate professional. He knew his aircraft and his procedures backwards and forwards. Though certainly possessing natural talent, Lt. Dyer's best attributes were his never-ending desire to learn, the great responsibility he felt for his crew, and the fact that he was a loyal friend. Lt. Dyer was buried in Arlington National Cemetery on March 9, 2007. https://www.adamdyer.com https://www.facebook.com/Lt.AdamDyer/