"Forever Loved, Never Forgotten"
The Navy Gold Star Program is eternally grateful for the sacrifice of those Service Members who have died in service to our country. To help us to never forget, we have set up this tribute page to honor and remember the memory of those lives. If you would like to honor the memory of your Sailor, Soldier, Marine, Airman or Coast Guardsman through the Navy Gold Star website please submit your thoughts and a photo.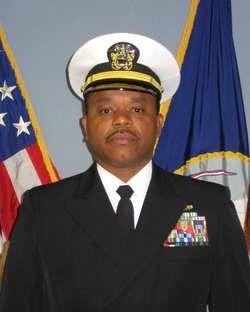 LCDR Christopher Glenn Williams was born March 27, 1962 in New York City to Rayfield and Dorothy Williams. He died on September 17, 2009.He was recruited at Meridian, Mississippi and attended Basic Training in Orlando, Florida in March 1983. Upon completion of YN 'A' School in July 1983, he reported onboard PCU Battleship IOWA as a Yeoman. He gave years of dedicated service to his country. He was a member of the All Navy Basketball Teams from 1984 to 1987. In March 1987 he reported to Recruit Training Command, Orlando FL, where he served as a Staff Yeoman of the CSRE later working in Recruit Affairs. In September 1990 he reported to USS THEODORE ROOSEVELT (CVN 71) as Leading Petty Officer. In January 1994 YN6 Williams reported to Naval Hospital Orlando as the Admin Leading Petty Officer, and was selected to the rank of Chief Petty Officer. In April 1996 he reported to USS NASSAU (LHA 4) as Leading Chief in X1 Division, and served as Admin Department Leading Chief. In June 2006 he reported to U.S. Personnel Support Activity, Pacific in Yokosuka, Japan as the Executive Officer. After six months, Chris served as the Executive Assistant to Commander, U.S. Naval Forces Japan in Yokosuka, Japan for two years. Lastly, he served as the Administrative Officer, Naval Manpower Analysis Command in Millington, TN.His awards are Meritorious Service Medal, Joint Service Commendation Medal, nine Navy and Marine Corps Commendation Medals, four Navy and Marine Corps Achievement Medals, and various campaign and service medals and awards.