"Forever Loved, Never Forgotten"
The Navy Gold Star Program is eternally grateful for the sacrifice of those Service Members who have died in service to our country. To help us to never forget, we have set up this tribute page to honor and remember the memory of those lives. If you would like to honor the memory of your Sailor, Soldier, Marine, Airman or Coast Guardsman through the Navy Gold Star website please submit your thoughts and a photo.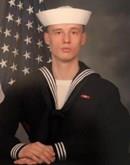 Aviation Machinist Mate Airman Apprentice Patrick Stellitano was a month shy of his 22nd birthday and three days short of his one-year anniversary with the US Navy. In his not-quite-22-life, he had a profound impact on many people. He was a devoted son, grandson, cousin, nephew, brother, and friend. He loved all things mechanical, particularly cars. He joined the Navy intent on learning skills that would enable him to pursue his love of restoring automobiles. But his legacy will not be his mechanical prowess. It will be the love he showed everyone and which he engendered in people. His intrepid nature allowed him to sidestep shyness creating an almost startling, easy friendliness. This friendliness was not limited to his peers. His superiors also remarked on his courtesy, respect, and natural friendliness. He was a good and kind young man, and he will be sorely missed, not just by his family, but by the many friends and comrades whose lives he touched.